Supporting a Jewish organization that aligns with your core beliefs and values is an extremely rewarding proposition, but not if it comes at the expense of your children and grandchildren.
Fortunately, at Birthright Israel Foundation, we offer a financial solution that lets you realize your philanthropic aspirations and support your family. With our planned giving program, you can rest assured knowing your loved ones are taken care of and your beliefs are honored forever.
Anytime you invest in the life-changing gift of Birthright Israel, your donation, big or small, helps send a Jewish young adult to Israel at no cost. When it is a planned gift, such as a charitable gift annuity, it supports both the continuity of the Birthright Israel trip and the financial future of your family's younger generations.
Becoming a member of our planned giving program is an easy, hassle-free process that's easily navigable at every stage. As a member, you will have the opportunity to master your long-term financial goals and you'll also create a lasting legacy.
Make Your Gift Your Legacy
As Birthright Israel's U.S. fundraising entity, Birthright Israel Foundation aims to raise the funds to send nearly 50,000 Jewish young adults to Israel every year. The transformational trip is a gift to eligible young Jews with no strings attached.
We seek out participants for Birthright Israel irrespective of their personal background, ideology, religious beliefs, political views, gender identity, or sexual preference. The 10-day journey promotes equality and unity, encouraging each participant and the larger group to go on a quest of self-discovery—one which typically leads to a connection with Israel and engagement with Jewish life even long after the trip is over.
While many participants have a tentative connection to their heritage before the trip, they return with a commitment to the Jewish state and the Jewish community. Participants who never worried about intermarriage before the trip go on to marry a Jewish partner.
And according to a survey by Brandeis University, 84 percent of alumni are raising their children Jewish.
"Not only did this free trip to Israel connect me to the Jewish community, but it opened my eyes for the first time to earnestly learn about Jewish beliefs, culture, and traditions," said alumnus Connor Jacobson. "What I once assumed was an antiquated religion, I now see for its long history of perseverance, progression, and universal wisdom. … I walked away from Israel as a proud Jewish man with a long, bright future ahead of me."
Price Tag for a Priceless Trip
Birthright Israel began in 1999 as a conversation between a group of dedicated Jewish philanthropists. It has since evolved into the premier method for ensuring a vibrant future for Jews everywhere.
There are many Birthright Israel-inspired trips out there, but only one Birthright Israel. Over the past two decades, our generous donors have helped tens of thousands of Jewish young adults from 68 countries claim their birthright.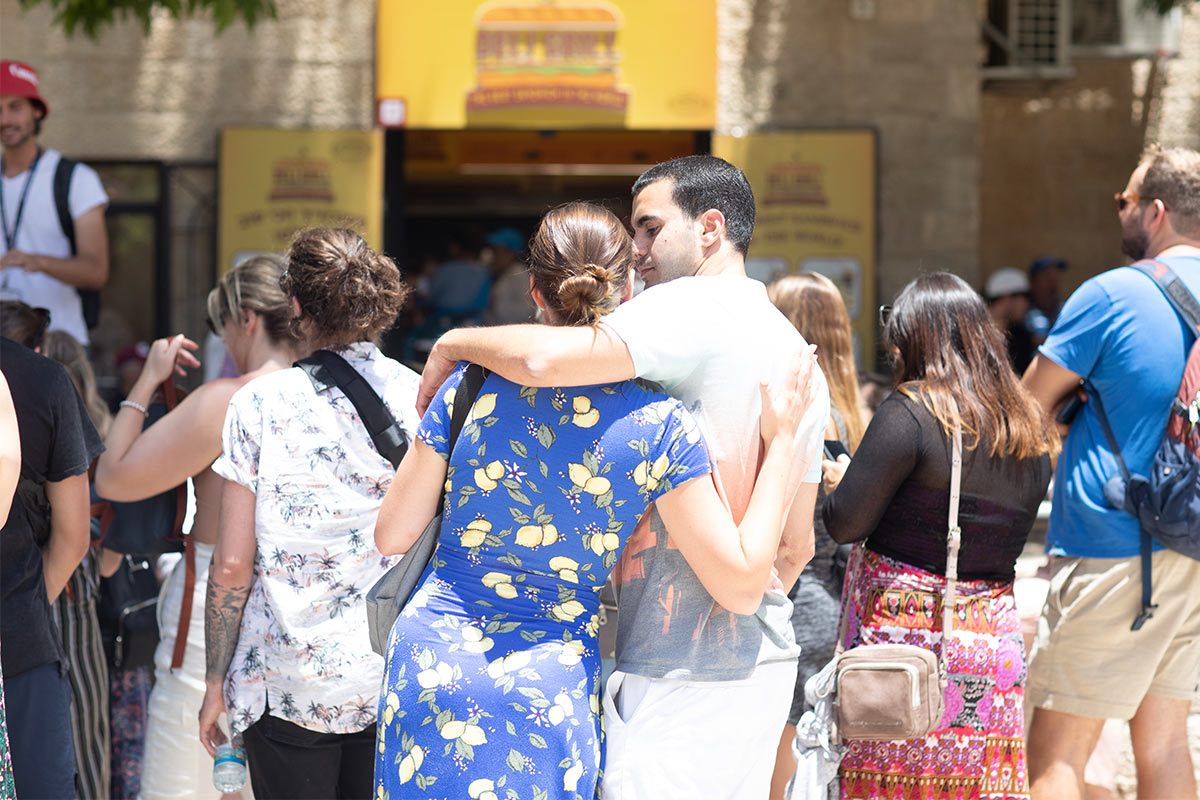 This is just a fraction of the estimated 1.6 million Jewish children under 18 who will be eligible to go on Birthright Israel and connect with their Jewish heritage. That's why our fundraising efforts never cease.
Birthright Israel Foundation donor Brian Shaw supports our life-changing Birthright Israel trips for several reasons, including its potential to create future leaders for the greater Jewish community. He also emphasizes the trip's role in combating misinformation about the Jewish homeland.
"The anti-Israel campaigns sweeping across college campuses are feeding our youth a false narrative about Israel," he said. "We need to provide opportunities to learn the facts and the truth."
The time to invest in the Diaspora is now, he added. "If we don't educate our young people, we are going to lose them."
It costs $3,500 to send one Jewish young adult to Israel. To reach our annual fundraising goal of $172,000, we seek the support of 40,000 individual donors and philanthropists across the globe every year. We also receive a small percentage of funding from the government of Israel, Jewish Federations of North America, and the Jewish Agency for Israel. 
Donors Andi and Larry Wolfe support Birthright Israel Foundation because it is a singular Jewish organization that hits on nearly all their philanthropic interests, including Jewish identity, Israel, education, and medical research.
"Birthright Israel is an educational tool for our young participants which allows them to question, get involved, and support the State of Israel with facts and experiences they have encountered," Larry said.
"We need young people to understand the importance of a strong and vibrant Israel," Andi added.
For donor Howard Socol, meanwhile, supporting Birthright Israel Foundation enables him and his wife, Sharon, to have a lasting impact on the Jewish world. "If I can think of any legacy I'd like to have," he said, "I would want [Birthright Israel co-founders] Charles and Michael's of having sent 800,000 young Jews from around the world to Israel."
What will your legacy be?
Make It a Win-Win
Planned giving is a financial tool that allows you to make an investment in the continuity of the Jewish people while also setting up you and your loved ones for success. In other words, it's a gift that keeps giving for you, your family, and the Jewish people.
We offer several different long-term giving options at Birthright Israel Foundation, including endowment funds, retirement plans, and the Birthright Israel charitable gift annuity. If you'd like to make a substantial donation and you're not in need of immediate income, we recommend our charitable gift annuity.
Creating a Charitable Gift Annuity
If your desire to make a gift to Birthright Israel Foundation is combined with a need for lifetime income, a Birthright Israel Charitable Gift Annuity may represent an ideal planning opportunity. A Charitable Gift Annuity (CGA), as the name implies, is an annuity with a charitable component—it combines a gift with an investment.
When you create a charitable gift annuity through our planned giving program, it will provide financial support to a charity you love, Birthright Israel Foundation. To learn more about creating a charitable gift annuity visit our planned giving program.
Make an Investment in the Jewish People
If the continuity of the Birthright Israel trip and the future of the Jewish people is important to you, even beyond your lifetime, consider giving long-term through a charitable lead trust. Your gift will help even more Jewish young adults connect with their heritage and homeland.
Planned giving is a simple way to transform your gift into your legacy. When you become a member of our planned giving program, your impact will be everlasting. You'll also receive other great perks, such as invites to Birthright Israel Foundation events and parties.
To learn about the many other ways to support Birthright Israel Foundation, visit our planned giving section.