Birthright Israel was the impetus to stepping into Jewish life as a leader, not just a follower. Before I went on the trip, I did not have a strong sense of what it meant to belong in a Jewish community. But through my experiences on the trip and in the years since, I have found a strong sense of purpose and community in my Jewish identity.
Finding My Jewish Community
I'm the granddaughter of a Holocaust survivor from Lithuania who moved to Mexico. My family's Jewish life in Mexico was never something that was at the forefront of our identity. So I didn't grow up with a true sense of what it meant to belong in a Jewish community. Once my grandfather passed in 2019, I felt a personal calling to fill his huge shoes, l'dor v'dor.
After returning from my Birthright Israel trip in 2021, I moved to New York to pursue a master's degree in Theatre Management and Producing at Columbia. I knew that finding my Jewish community was a top priority, and thankfully, that is very easy to do in New York City.
I joined the first Advisory Board for Columbia's Grad Student Hillel, started weekly chavruta, regularly attended services, began hosting holidays and Shabbat dinners with Onetable, and became a Birthright Israel trip staffer. I even had the honor of hosting former Birthright Israel participants of mine at my Seder; it was their first Passover experience!
Integrating My Jewish Identity with My Professional Life
During the first year of my graduate program, I worked on Broadway on shows like Dear Evan Hansen, Book of Mormon, and Leopoldstadt. Although I was living my dream of working in the commercial theater industry, I felt a strong desire to integrate my professional life with my Jewish identity, as it was extremely fulfilling to be in spaces where I felt a sense of community and connection through a shared covenant.
This led me to step into the role of Producing Associate for The Workshop — North America's first and only arts fellowship program for Jews of color, indigenous, Sephardic, and Mizrahi artists. As a Mexican Jew, uplifting the voices of Jews of color is a mission I hold dearly to my heart.
Soon, I'll be stepping into my first full-time role as a programming associate for the Temple Emanu-El Streicker Center. My heart leaps at the opportunity to merge my experiences in producing events with my Jewish culture. If you ask me, this couldn't have been a perfect fit.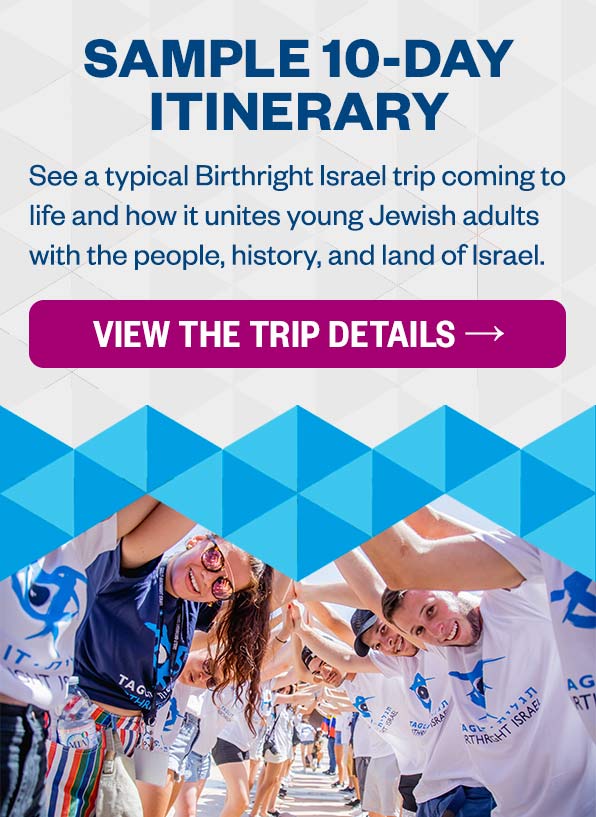 Empowering Young Jews Through Birthright Israel
Before my Birthright Israel trip, I hadn't found my Jewish community. Now my whole life is Jewish community. So when I got the opportunity to lead a trip of my own, it was very important for me to create a space that received young Jews from all walks of life with open arms.
As a two-time Birthright Israel trip staffer, I have had the privilege of witnessing the profound impact the program has on young Jews from diverse backgrounds. "A Jew is a Jew is a Jew," I told my most recent group in July 2023. Little did I know how much of an impact this small statement would make. Over half of my group would go on to thank me for being one of the first people to recognize their Judaism — regardless of if they themselves felt "Jewish enough".
Nobody should be questioning if they are "Jewish enough". I empowered them to embrace their unique Jewish identities, as it is an undeniable part of who they are. As someone who used to question their own place in the community before Birthright Israel, I know firsthand how this affirmation is fundamental in helping young Jews find their place in the community.
Promoting Unity and Solidarity
By bringing young Jews together and exposing them to the realities of life in Israel, Birthright Israel helps promote understanding and empathy between Jews in the Diaspora and those living in Israel. In a time where antisemitism and other forms of hate are on the rise, it becomes all the more important to nurture unity and solidarity as Jewish people.
I am eternally grateful to those who make this program possible because you gave my life a new sense of purpose. This is what Birthright Israel can do for its participants. I am only one example of the 800,000-plus young Jews who have been gifted this experience. Through programs like Birthright Israel, we become a more united people, bonded to each other and bonded to Israel.