Ted Rosner is a 2022 Birthright Israel alumnus from Westchester County, New York. He grew up in an interfaith family and was excited to participate in the program to learn more about his Jewish roots. Before his Birthright Israel trip, Ted worked at the Cato Institute as a Development intern, which he enjoyed very much. He graduated from Sacred Heart University and obtained a graduate certificate in International Relations from Harvard University. Most currently, Ted is looking to further the knowledge he gained on Birthright Israel and hopes to work for a Jewish organization.
Q&A with Ted Rosner
What inspired you to sign up for a Birthright Israel trip?
Ted Rosner: "It was all my Dad's idea. He knows that I love traveling and exploring new cultures, so he thought signing me up for a Birthright Israel trip was a great idea and wanted me to see the homeland. Also, two of my cousins on my Dad's side of my family went on Birthright Israel, which also had an impact. He helped me throughout the application process, so I thank him for that. Everyone in my family loves Israel, and now I do too."
Did you have any preconceived notions before going to Israel?
Ted Rosner: "I ended up finding out that EVERYONE is accepted in Israel. I also thought I was stepping into a warzone because of what is shown on the news, but I always felt safe."
Did you grow up with a connection to your Jewish identity?
Ted Rosner: "I did grow up doing some Jewish things:
My Dad, brother, and I went to my cousin's Bat Mitzvah
My Dad, brother, and I went to Seders at my aunt's apartment in Hartsdale, NY
My Dad's side of my family and I celebrated Hanukkah growing up.
I used my Birthright Israel trip to strengthen my Jewish identity and my love for Israel.
I choose to define my Jewishness as my Dad's side of the family
I now identify myself as a non-religious interfaith person, both Jewish, and Catholic."
What was your biggest takeaway from the trip?
Ted Rosner: "I was 'LIVING THE DREAM' by going on a Birthright Israel trip. This trip was the BEST TRIP I EVER WENT ON. I made friends in an instant and felt like I was going home. This was a dream come true as a young man with an international affairs background. I was able to see another country for myself, for FREE. I was able to learn Hebrew, such as "sababa." The whole bus knows all about that. I learned that Israel is a GORGEOUS country with AMAZING people and the presence of God, a place that should be on my resume soon and is my second home. What surprised me most about Israel and the Israelis is how welcoming they are and how much they made me feel at home. I am thrilled to say the Israelis are members of my family or 'mishpacha' in Hebrew. I hope to meet more Israelis and Birthright Israel alumni in the future and show them my love for Israel."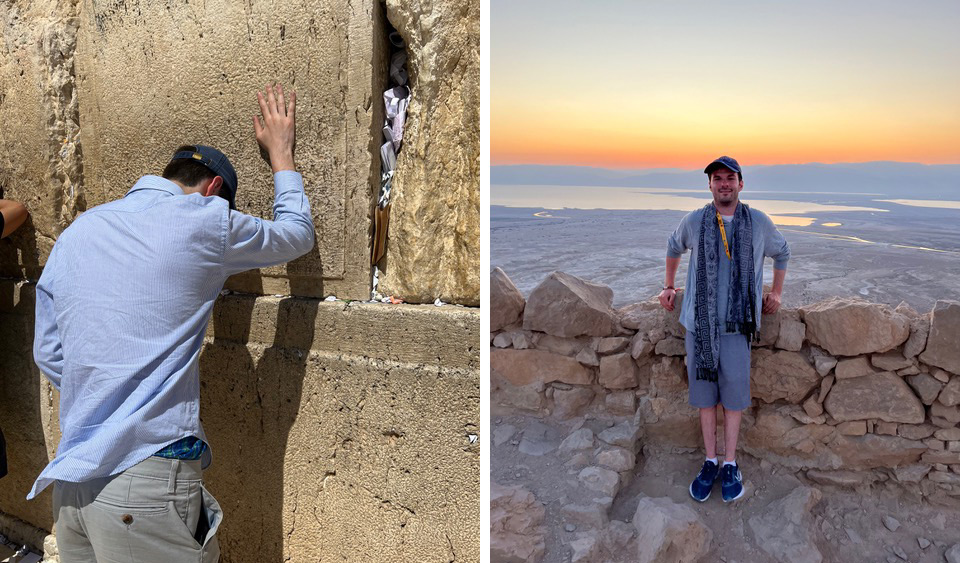 How has Birthright Israel played a role in your life since coming home from the trip?
Ted Rosner: "Birthright Israel made me fall in love with Israel. I am now an EXTREMELY strong supporter of Israel. I made SO many memories with amazing people that I will cherish forever. Bus 104—I LOVE YOU ALL!!!!!!!!!!!!!!! Every time I look at the photos from my trip, I start getting SOOOO happy. I now listen to the Israeli national anthem every day at the gym to get pumped, as well as "Avinu Malkeinu," and "Jerusalem of Gold." I have Israeli artwork in my dad's apartment. I am working out in the gym more so I get in better shape for the beach the next time I come to Israel. I am now speaking a mixture of Hebrew and English with my family to practice my Hebrew skills and trying to encourage my brother and everyone I meet who hasn't gone on Birthright Israel to go and have the same AMAZING time I had. I now have airbrush tattoos of the Israeli flag on both my wrists to commemorate the trip. I'm also trying to get involved with the Friends of the Israel Defense Forces organization. I will keep Israel in my heart forever."
Are you involved more in your Jewish community because of your Birthright Israel trip?
Ted Rosner: "I wouldn't say in my Jewish community, but I would love to get a job in an organization that supports Israel and fights antisemitism. I say every Jew deserves a happy life, and I want to be a part of an organization that believes in that. I wouldn't say I would join a synagogue since I'm not religious anymore, but there's always the possibility of that happening. I'm more interested in the international relations aspect; the constantly amazing relationship between Israel and the US will be, I hope, a big part of my career."
What would you say to them if you could meet the donor who made your trip possible?
Ted Rosner: "I don't think words alone can express how grateful I am to have had this amazing opportunity. But if I had to say something, I would say, "THANK YOU SOOOOOOOOOOO MUCH!!!! Thanks to you, I was able to see another country for FREE, make amazing friends, learn so much about Judaism, and have an amazing time with Israelis!!! The Israelis are AMAZING people. This trip exceeded my expectations. I could visit amazing cities, such as Tzfat, Tel Aviv, Netanya, and Jerusalem, all of which were AMAZING. I got very nice souvenirs to bring back to the US to help cherish my trip forever. I participated in Havdalah ceremonies to mark the end of the Sabbath and pray at the Western Wall, which helped me embrace my Jewish identity. I was able to spend a night in the desert, which I REALLY LOVED!! I will use this gift for something amazing, which I'm still figuring out, but my career will most likely be a part of it. You achieved your goal of helping me fall in love with Israel. This trip changed my life for the better as an international affairs guy; to see a GORGEOUS country, have great food, and live the dream……TODAH RABAH x10!!!!!!!!!"