As a philanthropist with a passion for learning and educating, Gene Hoffman is a strong supporter of Birthright Israel Foundation.
Though he and other Jews of his generation faced harsh antisemitism and restrictions against Jews while growing up, he believes it made them feel even more connected to their Jewish heritage. Jews of his era, he said, "understood our people better—we were more active in our Judaism because we had to be."
Jews of this generation, he added, "are becoming more unaffiliated than ever before."
Hoffman believes that Birthright Israel is the key to engaging today's young Jews. "Birthright Israel gives our younger generations an opportunity to go to Israel and ask questions," he said. "It's an opportunity to learn about their heritage and traditions."
As Birthright Israel's U.S. fundraising arm, Birthright Israel Foundation has helped send more than 800,000 Jewish young adults to Israel since the program began in 1999. While in Israel, they connect with the people, culture, religion, history, and heritage. 
Most participants have little interest in Israel and Jewish life before they sign up, but the transformational birthright trip to Israel has a lasting effect on their Jewish identity, community and culture, directly impacting the long-term continuity of the Jewish people.
Ancient History, Modern Culture
"If we could show our younger generations Israel 3,000 years ago," said Hoffman, "they would know where we all come from and where our roots are." In other words, the only way to guarantee a vibrant future for the Jewish people is to make sure they have a deep understanding of our past.
From digging for ancient artifacts to exploring Israel's booming tech scene, Birthright Israel participants enjoy activities that showcase both the flourishing modern culture and the ancient land. This juxtaposition helps enhance their understanding of the unbreakable bond between the Jewish people and their homeland.
And it works like magic. A study by Brandeis University's Cohen Center for Modern Jewish Studies shows that 93 percent of Birthright Israel participants are more likely to be "very much" connected to Israel after the trip.
"Birthright Israel teaches us [that] to move forward, you must focus on the past," said an unnamed alumnus. "[The trip] taught me how important history is, but how you must also continue living."
Don't Always Believe What You See on Social Media
In addition to Israel's history, Birthright Israel educates participants about issues important to the region. Many on the trip are college students who hide their Jewish identity due to antisemitism on campus or elsewhere. Birthright Israel teaches them the facts about Israel, so they can live as proud Jews.
"The insidiousness of anti-Israel campaigns is that they've gotten a hold of our youth," said donor Brian Shaw. "When they go on Birthright Israel, a curtain is kind of removed, and they're given knowledge they can touch and see. The kids then don't fill in the blanks with someone else's false narrative. They know the facts themselves and have something to say when they get home."
Along with learning the significance behind the establishment of the State of Israel in 1948, participants on the birthright trip to Israel get to discover firsthand that Israel is a safe place to visit, not the violent, war-thirsty region portrayed in the media. It's a realization that helps them to fully embrace their Jewish roots.
"This trip has made me proud to be Jewish and to show my true identity," said alumna Heather Jesse, adding: "Don't always believe what you see on social media."
Israel Is a Jewish Safe Haven
During their life-changing visit to the Jewish State, Birthright Israel participants usually feel a sense of belonging like never before. As alumna Alix Ablaza puts it, they quickly understand that "being Jewish is so much more than religion. It's a shared ancestry, land, and awe-inspiring community."
But keeping Israel as a Jewish safe haven comes at a cost for the Jewish people. That's yet another important lesson learned through Birthright Israel.
"How do we ensure the continuity of the only Jewish safe haven in the world?" alumna Jenna Pfeffer asked. "We send our youth to Israel. Let them see it firsthand. Let them see the Israeli Jews who love us, who protect us, who die for us. They will return the love."
What better way for participants understand that we are all part of one larger Jewish family than by talking with Mifgashim (Israeli peers) during their visit. These young Israelis are often IDF soldiers whose friends and family have sacrificed their lives for the Jewish state.
"Right after Yad Vashem, we went to Mt. Herzl, where rests a young man who was best friends with one of the soldiers in my group and fell under service during Operation Protective Edge," said alumna Abbey Taub. "At this hero's memorial, we stood together, shoulder to shoulder, American Jews and Israeli soldiers, and sang Hatikvah to honor his sacrifice. This moment transformed me and left me with an overwhelming sense of duty. I realized that just because I'm not Israeli doesn't mean I don't have a responsibility to the Jewish State."
This is a lesson that goes both ways for Diaspora and Israeli Jewish young adults. As one unnamed Mifgash put it: "When you are a soldier, you understand the importance of your job to defend the home front, your friends, and your country. My shared journey with Jewish friends from throughout the world strengthened me and helped me understand, in a deep and meaningful way, that what I am doing here is for the benefit of all the Jewish people."
The Learning Continues Back Home
The learning doesn't stop when Birthright Israel participants return home. They go on to get involved in Jewish causes, work for Jewish organizations, marry Jewish, and have Jewish kids. Some even go on to learn Hebrew or make aliyah.
"Turning young Jewish learners into future Jewish leaders ensures a bright future," said Rabbi Jessica Zimmerman Graf. "Hope has kept the Jewish people alive through thousands of years of challenges. Thanks to Birthright Israel and other organizations that build strong, informed, and outspoken young leaders of our community, our commitment to the future is strong."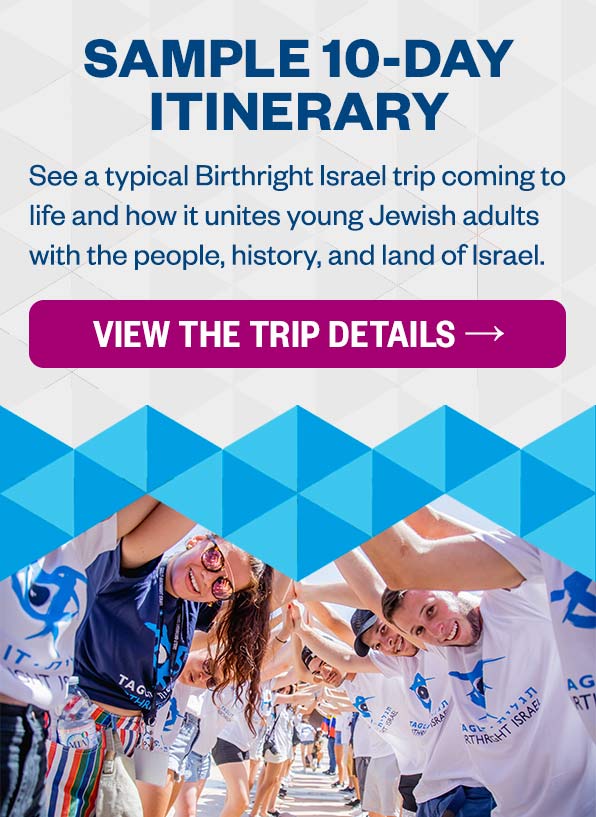 It Took 40,000 People to Make This Happen
The gift of a life-changing Birthright Israel Trip doesn't happen in a vacuum. It takes 40,000 people supporting our mission (as well as a small contribution from Jewish organizations and the Israeli government) to help send nearly 50,000 Jewish young adults to Israel every year.
The generosity of our donors hasn't gone unnoticed by our appreciative alumni. "Being in the holy land, walking on sacred ground with my own two feet, was a gift I will be forever grateful for," said alumna Holly Millet. "I fell in love with Israel, the people, the culture, and what it stands for."

The average cost of a Birthright Israel trip per participant is $3,500 (before the cost of COVID‑19 related safety precautions). That means Birthright Israel Foundation needs the support of generous Jewish community members like you now more than ever.
When you make a donation to Birthright Israel Foundation, you are directly helping Jewish young adults have the chance to experience this life-changing trip at no cost. Your support ensures your family and the greater Jewish people will maintain a strong religious and cultural connection to Judaism.
Did you know any Birthright Israel alumni? How did the trip change their life? We'd love to hear all about their experience. Share your story today.