As the US fundraising arm for Birthright Israel trips, Birthright Israel Foundation aims to raise nearly $57 million every year to help nearly 50,000 Jewish young adults claim their birthright.
While it's clear why the Jewish State and major US Jewish organizations would help fund this educational, life-changing trip, you may be wondering what's in it for our individual donors. What's the benefit of helping to send a relative stranger to Israel as a gift?
When it comes to donating to Birthright Israel Foundation, the benefits are actually extraordinary, not only to you but for the Jewish Diaspora as a whole. Your donation strengthens participants' Jewish identities, communities, and connections with Israel, ensuring a vibrant future for the Jewish people as a whole.
Here's a closer look at the many benefits of supporting our mission.
Tangible Results
Birthright Israel Foundation donor Ron Eichel supports our charitable efforts for a variety of reasons, but it definitely doesn't hurt that he knows where his money is going. His generous donation goes directly toward funding a priceless Birthright Israel trip.
It costs $3,500 to send one person to Israel The annual programming cost globally is $172 million.
"I have always identified strongly as being a Jew and with the State of Israel, so, when they approached me a few years ago to get involved, the answer was easy," said Eichel. "I knew I wanted to do something that was tangible. I thought I could participate and enjoy the result."
For Eichel, that result has been momentous. Since Eichel first became a donor, he has personally gifted over 400 Jewish young adults with a transformational Israel trip.
Alumni Who Step Up
Birthright Israel Foundation donor Bob Schuckit is impressed by how flawlessly Birthright Israel takes young adults who wouldn't normally get involved in the Jewish community and "gets them involved." 
As an American Israel Public Affairs Committee (AIPAC) member, Schuckit often witnesses alumni stepping up to take leadership roles because of their Birthright Israel experiences. His own son became an active leader in his college AIPAC group after his trip, and is now starting to get active in his local chapter.
"The trip impacts every other Jewish organization out there," said Schuckit.
Donors Sharon and Howard Socol agree. "We talk a lot about the leaders in the Jewish community, but it is also about the people who are proud of their heritage and feel it in their kishkes," they said. "They will be the first ones to raise their hands to help [to feed] the elderly, for example. They are going to get that as a Jewish value because of Birthright Israel."
Inclusivity and Far-Reaching Effects
In addition to our propensity for creating leaders, many donors appreciate the inclusivity of Birthright Israel trips. All Jewish young adults, ages 18-32, are eligible for this gift regardless of their Jewish upbringing or lack thereof, including those from interfaith families.
"Birthright [Israel] is a calling card to all Jews everywhere that you are accepted just as you are … exactly as you are," said donor and alumna Rachel Gerrol. 
Many Birthright Israel participants feel disconnected from the Jewish community prior to the 10-day trip. There may be a variety of reasons for this lack of connection, ranging from a private struggle with mental illness to a fear of being targeted by antisemites. Due to the diversity of our participants, we offer targeted niche Birthright Israel trips in addition to the classic trip experience. Participants may choose from a variety of unexpected niche options for yogis, vegans, outdoorsy types, musicians, religious, LGBTQ+, and differently-abled—to name a few.
"Birthright Israel … has no boundaries," said the Socols. "There is a trip for everyone, even those who may have a physical disability."
An Education and an Open Mind
Birthright Israel participants are at an age when they are examining their lives, their identities, and their futures. Along with lacking connection to the Jewish community, they may not know a whole lot about Israel apart from what they hear from the media or, worse yet, during anti-Israel protests on their college campuses.
By investing in the Birthright Israel Foundation, donors enable participants to combat their misperceptions about the Jewish homeland and form an educated opinion on Israel and their own Jewish identity. "I always remind people—we aren't investing in the program so they can hike Masada or float in the Dead Sea," said donor and parent Amy Jaffee. "We're investing in their education to show them different perspectives. Birthright Israel is unlike any other trip our kids could take." 
Donor Barbara Silverman added that the trip gives the younger generation the tools to create a lifelong connection with Israel, Judaism, and our collective heritage. "When they visit the historic sites, witness the array of people who call themselves Israelis, and relish the tastes in this land of our ancestors, it is the perfect antidote to any negative press," she
said. "In spite of Israel's imperfections, the young travelers can only be in awe when they see for themselves what Israel has accomplished in its short lifetime."
Forging a bond between Israel and the younger generation is more important today than ever before, according to donor Mark Goodman. "There's no better way to educate young Jews about Israel than to give them the gift of touching the land and meeting their Israeli peers who they form lifelong friendships with," he said. "From here the impact of the trip will stay forever."
A Counter to Antisemitism
In addition to understanding the history of their homeland, Goodman is thankful that Birthright Israel is doing the critical job of combating antisemitism. "It's taking our young people who have never been to Israel and showing them firsthand the land, people, and history of our homeland. They then can speak about Israel and defend her—which we need right now."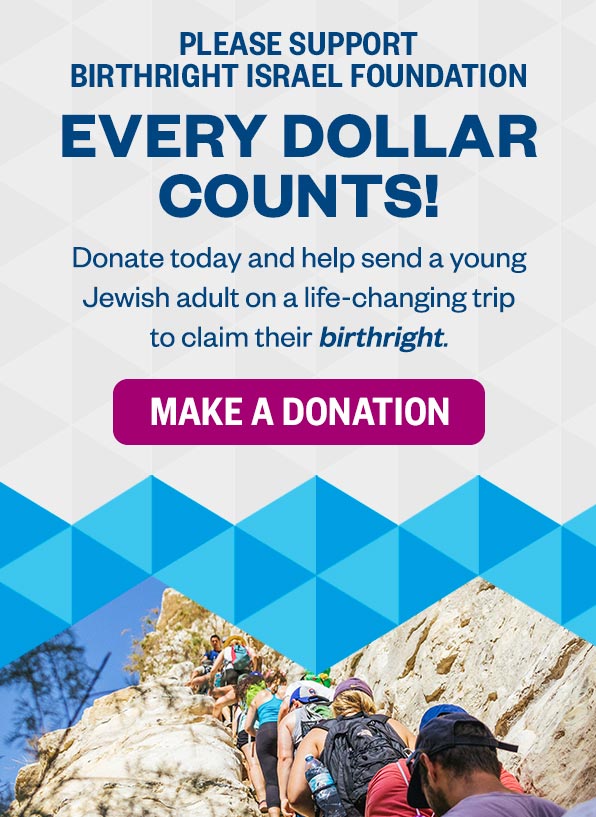 Unfortunately, antisemitism, such as that experienced by donor Gene Hoffman as a child, persists around the world. Hoffman, however, thinks Birthright Israel is a fabulous learning opportunity that helps combat such unwarranted hatred. "The Jewish people are better off for it," he said. "We need this in the Jewish religion."
Donor Rob Clarfeld agreed. While generations and generations of his ancestors moved throughout Europe, undoubtedly motivated by pogroms and antisemitism, "Today, thankfully, Israel exists, where Jews can live as Jews without persecution for the 'crime' of being Jewish."
He considers his support of Birthright Israel Foundation "an obligation" or "visceral responsibility" not just for our generation and his family, but for all the generations of Jews.
Eternal Thanks
As you can see, there are many benefits to becoming a Birthright Israel Foundation donor. Along with supporting the continuity of the Jewish people, you will enlighten young minds and strengthen your mishpacha.
You'll also have the unending thanks of alumni like Holly Millet, who said her trip to the holy land is a gift she will never forget. "I would like to extend my deepest gratitude for everyone who made this possible," she said. "Coming home to Israel was a special feeling, indescribable really, hard to put into words. I fell in love with Israel, the people, the culture, and what it stands for. I made Israeli friends, saw the beautiful landscape, and feel so much closer to my Jewish heritage through this experience. From the bottom of my heart, 'thank you.'"
Additionally, as a donor, you will gain access to our Schmooze newsletter, where you can read (or watch) firsthand accounts of the lives your donations change. It will also help you play an active role in shaping the Jewish future, provide you with opportunities to join Birthright Israel Foundation communities across the US, and attend future Birthright Israel Foundation missions.
A Gift That Keeps on Giving
Whether it's big or small, one time or once a month, your donation to Birthright Israel Foundation will make a difference. We accept everything from loose change to more substantial denominations. You can even save some money by making a tax-deductible donation from an individual retirement account.
To learn how you can keep the momentum of the Jewish people going strong please consider giving today.