Caleb Esrig grew up in New Rochelle, NY, where he attended Solomon Schechter School of Westchester (now The Leffell School), where he first developed his passion for Judaism. For college, Caleb attended Harvard, where he studied Economics and worked closely with Combined Jewish Philanthropies and the Harvard Hillel. Today, Caleb works as an associate consultant in Bain & Company's New York office, where he covers a variety of industries and sectors.
Q&A with Caleb Esrig
What inspired you to sign up for a Birthright Israel trip, and did you have any preconceived notions before going to Israel?
Caleb: "I had a fairly unique experience choosing to go on Birthright Israel. It was my third time visiting Israel, so the chance to see the country was not new to me. It also came at an inopportune time—I was starting my Onward Israel program a few weeks after my Birthright trip would leave, and I would need to return to the U.S. between the two for a family event.
But going on Harvard's Birthright Israel trip was a chance to see Israel through new eyes—through the eyes of friends and classmates at Harvard who had not yet seen the country for themselves. That was something I truly wanted to experience. I advocated for Israel throughout college, wrote pro-Israel op-eds, and worked with groups like CJP and Hillel on campus. Of course, I came to Israel on Birthright Israel with some preconceived notions, mainly about my relationship with the country and my views on the issues, which were not new to me.
However, despite my preconceived notions, the experience on Birthright Israel was eye-opening. I had the chance to see the country again, and I had those notions challenged, both by the experiences on the trip and by my friends experiencing Israel for their first time."
What was your biggest takeaway from the Birthright Israel trip?
Caleb: "My biggest takeaway from Birthright Israel was just how transformative a 10-day trip in Israel could be. I watched myself and my friends—many of whom had never before visited Israel, almost immediately develop a deep connection with their background and heritage. One of my friends, for example, came into the trip not identifying as Jewish, even though her mother was Jewish. On day 6 or 7, we were walking along the boardwalk in Tel Aviv, and she opened up to the group about how she had never before felt so connected to her heritage, whether her Jewish heritage or not, and that she intended to return home to the U.S. an active member of a Jewish community. We really experienced everything that could possibly have fit into 10 days, including the vast political complexities of Israel, and the more we learned, the more I and my fellow participants felt connected.
What always impresses and surprises me about Israel is the vitality and zest for life in the country. My trip would be walking through places from Nahariya to Tel Aviv, and Israelis would come up to us, talk to us, and welcome us. That's incredible for a country facing constant existential threats. I live in New York, and the warmth of the Israeli people is always an incredible experience and contrast for me."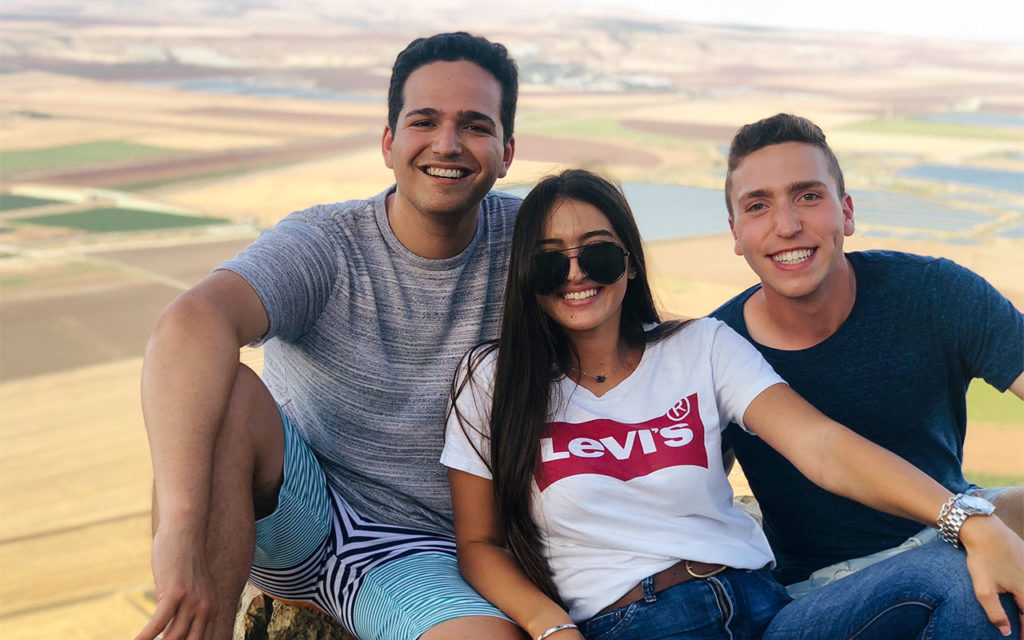 How has Birthright Israel played a role in your life since coming home from the trip?
Caleb: "For me, having visited Israel before Birthright and returned for two months after Birthright for Onward, the most lasting memories and impacts from Birthright Israel are the people I met from my trip. Our group chat has remained active, especially during the pandemic, and I spent time during Onward with a few participants from my trip who remained in Israel for the summer. It's an incredibly unique experience: an intense bonding trip for 10 days, often with people you had never previously met, and the legacy of that trip remains.
For many others from my trip, I am confident that Birthright Israel has instilled in them a love and zest for Israel. I know that because of our Birthright trip, they feel connected to the country and its people, as well as to their own religious heritage."
How did you learn about Onward Israel and why did you want to participate in the internship?
Caleb: "I learned about Onward Israel from the Harvard Hillel, as well as from friends who had previously gone on Onward. It was an incredible opportunity: I had the chance to intern at an economic research think tank, where I did meaningful research while living in Tel Aviv. It also meant, for the first time, I could experience Israel as someone who lived there, if only for a few months, rather than just as a tourist."
How did your Birthright Israel experience prepare you for your Onward Israel internship?
Caleb: "There is no better preparation or introduction to Onward Israel than Birthright Israel. Because Birthright Israel offers a jam-packed introduction to Israel, including visiting the entire country, it positions its participants to immediately take full advantage of Onward. Birthright Israel meant I started Onward already understanding Israeli culture and even had a few Israeli connections and friends.
Throughout Onward Israel, I found myself referring back to messages from my tour guide and group on Birthright. Including, of course, from my Jewish day school background and prior experience in Israel, I understood the history and the culture incredibly well. But I really see Birthright Israel as providing its participants the foundational background needed to fully immerse themselves in their Onward experience."
How do you think Onward Israel assisted you in achieving your personal and professional goals?
Caleb: "Professionally, Onward Israel set me on my current career path, and I am so thankful for my experience through Onward and in Israel. It gave me the chance to have a meaningful economic research experience, which led me to my junior internship in investment research at Goldman Sachs. Those two opportunities prepared me for my current career, so I really see Onward Israel as a cornerstone of my professional development.
Personally, Onward convinced me that spending time living outside the U.S. can offer incredible learning experiences. It helped me grow confident in wanting to spend more time living, working, and studying abroad, and it helped convince me to study abroad in Madrid through Harvard, which was an incredible experience. My personal growth on Onward Israel was tremendous as well. My Hebrew improved dramatically, I really became an independent adult, and I cooked for myself. It was an incredible experience."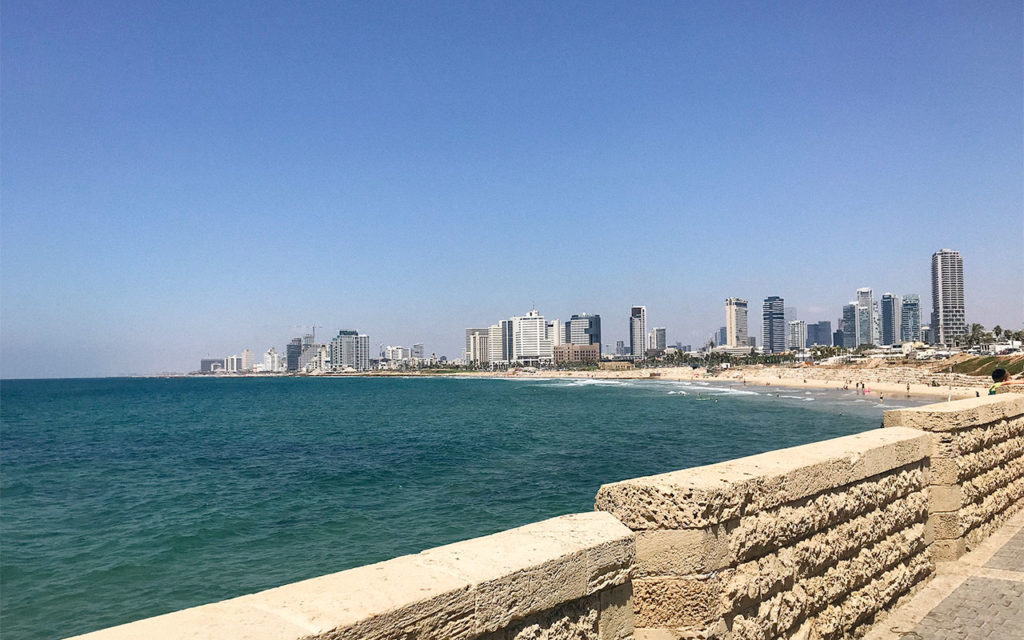 Share more with us about what it was like to live and work in Israel. Do you feel a greater connection to the land and people after being fully immersed in Israeli society?
Caleb: "After years of visiting, learning, and writing about Israel, Onward Israel gave me my first chance to truly live in Israel. It was an incredible experience, and it really crystallized my passion for and love for the country, the language, and the people.
The Country
Living in Israel absolutely transformed my connection to it. From eating incredible hummus to visiting Eilat, I had the chance to make Israel my home. I was no longer just a tourist visiting a far-off place, but I really was, for a few months, a resident of the country. I grew to know my neighborhood in Tel Aviv, I knew how to navigate the buses and trains, and I knew where to get the best shakshuka. The experience transformed Israel from a tourist destination to me, into a home of mine.
The Language
While I studied Hebrew for years, including at my K-12 Jewish school, I have no doubt my Hebrew improved more in my two months in Israel than it did over my years studying it in the classroom. There is just no comparison to practicing Hebrew with Israelis, hearing how they speak and getting the chance to use the language on a routine basis. Improving my Hebrew mastery also helped deepen my connection to Israel and Judaism because it really is a pivotal connection tool for Jews around the world. For example, when I was studying for six months in Madrid, I visited a synagogue in Vienna while on a weekend trip. There, I was able to speak to the people attending the Friday evening services in Hebrew since it was the only language we spoke in common.
The People
Israel is a complex place, but Onward Israel helped me develop deep connections with everyday Israelis, from my supervisor at work (who hosted me for a Shabbat dinner a year after my Onward trip) to my program coordinators. They turn Israel from an idea, a lesson in class, or an issue people debate, into a real place, with real people. That is so important. When I talk to people now about Israel, or when I reflect on my experiences, Israel means more than just a homeland for the Jewish people or a place where my relatives live; it's the home of my friends and coworkers."
If you could meet the donors who made your experiences possible, what would you say to them?
Caleb: "I have often reflected on how fortunate I am to grow up in the Jewish community today. Just a few decades ago, when my parents were growing up, the idea of Birthright Israel and Onward Israel was unimaginable. They often tell me how they wish they could have experienced the same kinds of connections to Israel that I did through the two programs. That connection to Israel that I developed is not unique to me—so many of my friends, colleagues, and classmates experienced similar connections through Birthright Israel and Onward Israel that donors have made possible.
Their donations and involvement have built a young American Jewish community that—despite any headlines to the contrary—is, in my view, often defined by its connection to Israel and Israel's Jewish history. Many of my peers and friends, even if they rarely attend a Shabbat dinner or holiday event, feel uniquely connected to Israel and their Jewish heritage. Thanks to Birthright Israel and Onward Israel, they know people in Israel, they speak some Hebrew, and they know their favorite restaurants in Tel Aviv and Jerusalem. That will ensure strong connections for decades to come, and as someone who cares deeply about Israel and the Jewish people, I cannot be more thankful."